Date:9:30AM-5:30PM, January 25-26, 2022 (2days)
Trainer:Jacky Shen
Place : Live online — ZOOM
Price: RMB 7000 per person, discount for early registration or group registration
Contact us: 021-34753688
Email: Service@uperform.cn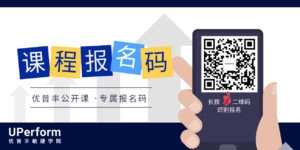 Course Advantage:
ScrumAlliance ScrumMaster CSM Certification And PMI PMP PDU & ACP Contact Hours.
Taught by Jacky Shen, a well-known agile pioneer.
The highly interactive and practical courses are highly recommended.
Training Consultant: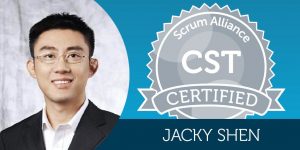 – Both Certified Team Coach & CertifiedScrum Trainer of Scrum Alliance
– Mentor of Agile Coach
– Professional Coach (CPCP)
– Certificated Lean Kanban Practitioner
– Certified Management3.0 Facilitator
– Certified Large Scale Scrum Practitioner
– Visiting Lecturer of SMIE, Sun Yat-sen University
Jacky started to practice Agile in 2007. He transitioned from senior developer to manager in the Agile transformations of large organizations of 500 people or more. He adopted Agile engineering practices hands-on to improve delivery, team-building, and the quality of the enterprise culture. He also provided guidance to product owners and ScrumMasters and participated in the implementation of the LeSS framework.
Jacky has provided training and coaching for many well-known international and domes
tic enterprises. Besides teaching Agile programming and project management skills, he
has introduced soft skills, such as professional coaching and visual facilitating, to im
prove the overall performance and agility of the whole organization.
Jacky is the Chinese translator of the books SOA with REST (by Thomas Erl et al) and
Effective Unit Testing (by Lasse Koskela).
Key Learning Objectives:
Learn the core Agile values and principles
Master the Scrum Framework, Roles and Artifacts and ceremonies/Key Events
Understand and apply the Scrum framework in a self-organized team environment
Understand the art and responsibility of ScrumMaster
Master Agile requirement, Product Backlog and user story techniques
Understand Scrum team dynamics
Learn fundamental Agile Estimation & Planning skills
Learn fundamental test-driven concept with Quality mindset
Understand options on Scaling Scrum
Understand the challenges of change
Learn other advanced topics specified
Certificates and Others:
Upon completion of the registration process at the end of the course, each participant will receive a Certified Scrum Master certificate from Scrum Alliance and a 2-year Alliance membership, as well as PMI PDU credits and ACP Contact Hours. At the end of the course, students will receive the course materials electronically.
Register for consultation and obtain detailed course outline::
Tel: 021-34753688
Email: Service@UPerform.CN